Set 1:
Intro: James Bond Theme
Black funeral (Mercyful Fate)
Typhon (Therion)
The book of heavy metal (Dream Evil)
Whether with or without (Illwill, feat. Andy laRocque)
Progenies of the great apocalypse (Dimmu Borgir)
The candle (King Diamond)
Bouffon bloody bouffon (Notre Dame)
Vlad the impaler (Notre Dame)
Intro: The rhyme (Memento Mori)
The seeds of hatred (Memento Mori, feat. Mike Wead)
Snowy Shaw & Mannequin de Sade – Drum solo duet
I want you to want me (XXX / Cheap Trick)
Set 2:
Intro: Halloween
Medley: Blood of Kingu / Muspelheim (Therion)
The candle (King Diamond, short interlude only)
Black birthday (Hip hip hooray) (Notre Dame)
A misconception of the french kiss (Notre Dame)
The sledge (Dream Evil)
Halloween (King Diamond)
Come to the sabbath (Mercyful Fate)
Made of metal w/ Book of heavy metal ending (Dream Evil) / Medley ends
XXX le masochiste
The eye of the witch (King Diamond, feat. Andy & Hal Patino)
Sleepless nights (King Diamond, feat. Andy, Hal & Mike)
My friend (the end) (Dream Evil, feat. Dennis ?, Kee Marcello, unknown guitarist, unknown drummer)
Singh Hai (Illwill)
Blacksmith & Co. (Notre Dame)
M.O.M. (Dream Evil)
To mega therion (Therion, feat. Tomas Wikström & Mats Levén)
My generation (feat. Andy, Hal, MaryAnn Cotton and more)
*Brilliant if underrehearsed gig. Shot for DVD, finally we'll get some Notre Dame on DVD! Bassplayer/vocalist Hellinor did a good job!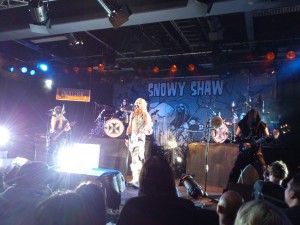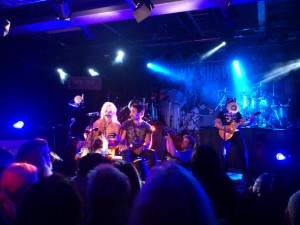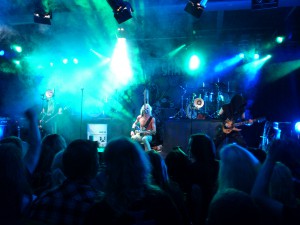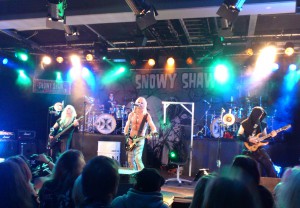 This entry is stored in Friday, May 27th, 2011 at 2:11 pm and is filed under Concert. You can follow any responses to this entry through the RSS 2.0 feed. You can leave a response, or trackback from your own site.