Intro / Iconic
Bitch I'm Madonna
Burning up
Holy water (incl. Vogue)
Devil pray
Messiah (interlude)
Body shop
True blue
Deeper and deeper
HeartBreak City (incl. Love don't live here anymore)
Like a virgin
S.E.X. (interlude, including Justify my love)
Living for love
La isla bonita
Dress you up (including Into the groove and Lucky star)
Like a prayer
Rebel heart
Illuminati (interlude)
Music
Candy shop
Material girl
La vie en rose
Unapologetic bitch
Holiday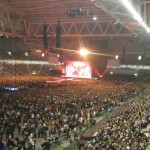 This entry is stored in Saturday, November 14th, 2015 at 6:40 pm and is filed under Concert. You can follow any responses to this entry through the RSS 2.0 feed. You can leave a response, or trackback from your own site.