Nu kan jag gå ut och möta världen
Jag har vänner
Den jag kunde va
Jakten på Dalai Lama
Har banken ta´tt din villa
Vem kan man lita på?
Keops pyramid
Ni som tjänar på krig
Titanic (andraklasspassagerarens sista sång)
Flickan och kråkan
Valet
En sång till modet
Det här är ditt land
Jag ropar ditt namn
Mitt hjärtas fågel
Strö all min kärlek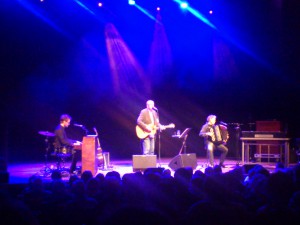 This entry is stored in Sunday, March 4th, 2012 at 7:30 pm and is filed under Concert. You can follow any responses to this entry through the RSS 2.0 feed. You can leave a response, or trackback from your own site.