D.I.G. (Deep inner groove)
Annies song
Plain 'n'simple
Organeleptic
The music inside (feat. Will Lee)
E com esse que vou eu (feat. Will Lee & Carmen Cuestra)
Skylark (Tweetys song) (feat. Will Lee & Lizzie Loeb)
You got it (feat. Will Lee)
*First set of the evening at 20:00. Great gig, the band was spot on and everyone seemed to enjoy themselves. Very nice. I really enjoyed Lizzie's vocals on Skylark.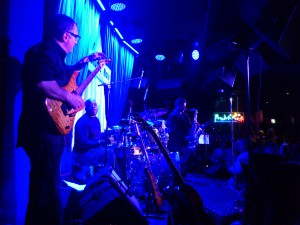 This entry is stored in Thursday, March 8th, 2012 at 4:25 pm and is filed under Concert. You can follow any responses to this entry through the RSS 2.0 feed. You can leave a response, or trackback from your own site.