Kom och håll om mig
När du klär av dig
Svårt att säga nej
Morgonfågel
Semester
Dom tar dig ifrån mig
Brev
Vi kommer aldrig att dö
När det börjar tar det aldrig slut
Stället som jag kommer från
Ännu en dag
Aldrig igen
Låt mig komma in
Cirkus
Tiden läker ingenting
Intill dig
Människor som ingen vill se
Hennes syster sa
Innan allt försvinner
En sländas andetag
En man du tyckte om
I samma bil
Tack för konserten (din jävel)
*Good gig, a matinée-concert due to the swedish fascination for the eurovision song contest. The second of the semifinals was held at 8PM which meant that BKO had to start their gig at 5PM so that people would be able to make it home in time. I have never ever witnessed this before, and hilarious though it was I hope never to witness it again… Strange times. One new song added compared to Copenhagen in november, but two removed.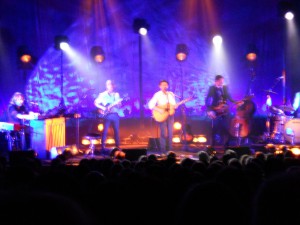 This entry is stored in Saturday, February 12th, 2011 at 8:57 am and is filed under Concert. You can follow any responses to this entry through the RSS 2.0 feed. You can leave a response, or trackback from your own site.