Intro / Fembot
Cry when you get older
Cobrastyle
Dancing on my own
We dance to the beat (incl. Don't fucking tell me what to do)
Love kills
The girl & the robot
Indestructible
Dream on
With every heartbeat
U should know better
Konichiwa bitches
Dancehall queen
Be mine
Hang with me
Show me love (with Dancing queen-opening)
*Fucking brilliant show, as always. In my eyes was on the setlist but wasn't played unfortunately. Dancing, Girl/Robot and Be mine were so good it's scary!!! DJ's Rebecca & Fiona opened the gig and were great, their first song (an original) was awesome…still don't know it's name though. Pisspoor venue unfortunately, the sound was very bad and boomy and and it did not suit this kind of music at all. Ah well, I'm so happy that a very good concert-year ended on such a high note!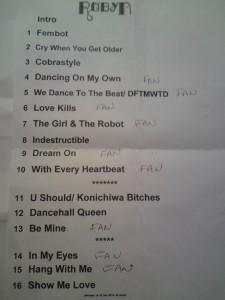 This entry is stored in Saturday, December 18th, 2010 at 9:07 pm and is filed under Concert. You can follow any responses to this entry through the RSS 2.0 feed. You can leave a response, or trackback from your own site.