Boyfriend
Bara du och jag
Oh mama
Okej okej
What's the colour of love
Highway to hell
*Short but ok gig by Lili & Susie together with a coverband, nice to hear Bara du och jag and a smashing version of Show me heaven. The crowd were bloody awful though, Sweden's worst brats all in one place. Yuk. And yes, that is AC/DC's Highway to hell last in the set. Very, VERY, strange to have seen Lili & Susie do that. But they did.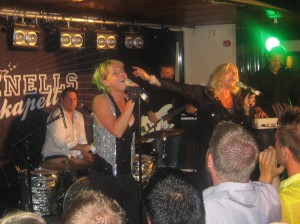 This entry is stored in Friday, July 23rd, 2010 at 12:36 pm and is filed under Concert. You can follow any responses to this entry through the RSS 2.0 feed. You can leave a response, or trackback from your own site.