Nitzer Ebb:
Murderous
Shame
Once you say
Lightning man
Hearts and minds
Hit you back
Godhead
Down on your knees
Control I'm here
I give to you
Depeche Mode:
In chains
Wrong
Hole to feed
Walking in my shoes
It's no good
A question of time
Precious
World in my eyes
Insight (Martin acoustic)
Home (Martin acoustic)
Miles away/The truth is
Policy of truth (incl. restart)
In your room (Zephyr mix)
I feel you
Enjoy the silence
Never let me down again
One caress
Stripped
Behind the wheel
Personal Jesus
*A very funny moment occured when Dave totally lost his place in POT, they restarted the song and the animation to everyones enjoyment. Everyone was laughing hard, and the gig gained a great momentum right there.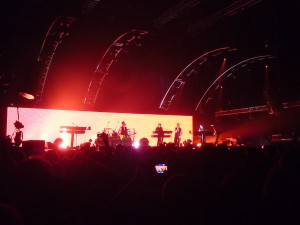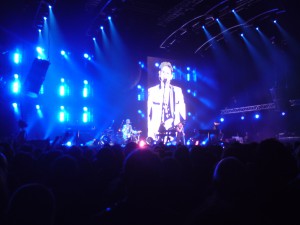 This entry is stored in Monday, January 25th, 2010 at 11:31 am and is filed under Concert. You can follow any responses to this entry through the RSS 2.0 feed. You can leave a response, or trackback from your own site.