Rocket ride
Parasite
Snow blind
Sister
Outer space
Speedin' back to my baby
Rock soldiers
Love her all I can
2000 man (preceded by snippets of Satisfaction and The last time)
Fox on the run
New York groove
Foxy & free
Shock me / Ace – solo
Shout it out loud
Deuce
Rip it out
Love gun
Cold gin (w/ Black diamond-ending)
*Soundcheck included Snow blind/Sister/Fox on the run. Ace was in a very good mood. I attended the M&G before the gig, we were told we could get one autograph per person + one pic but he signed everything, he even asked some of us "is that all?".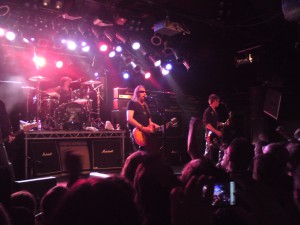 This entry is stored in Friday, December 4th, 2009 at 11:11 am and is filed under Concert. You can follow any responses to this entry through the RSS 2.0 feed. You can leave a response, or trackback from your own site.