Circus
Piece of me
Radar
Ooh ooh baby
Hot as ice
Boys
If U seek Amy
Me against the music
Everytime
Freakshow
Get naked (I got a plan)
Mannequin
Breathe on me
Do somethin'
I'm a slave 4 U
Toxic
…baby one more time
Womanizer
Circus (reprise)
*The waiting for this one was ridiculous. A shitty DJ ran around playing shit, and then a shitty circus got 30 minutes perform. Then – another 30 minutes worth of waiting before Britney finally made her appearance. Today I have a better memory of the gig than what i actually thought while sitting there and waiting… Also – Depeche and Madonna played the same venue close to this date. Madonna was completely sold out, over 50.000, Depeche were not far behind. Britney's show seemed to have about half of that but figures say that 40,000 people attended. It did not look that way.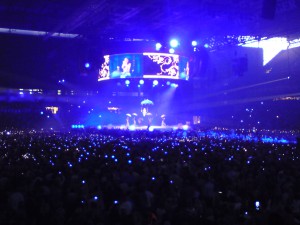 This entry is stored in Saturday, July 11th, 2009 at 10:47 am and is filed under Concert. You can follow any responses to this entry through the RSS 2.0 feed. You can leave a response, or trackback from your own site.