It's Only Love
A New Flame
Your Mirror
Never Never Love
Night Nurse
For Your Babies
Holding Back The Years
You Make Me Feel Brand New
Thrill Me
The Air That I Breathe
Go Now
Fake
Come To My Aid
The Right Thing
Sunrise
Fairground
Something Got Me Started
Money's Too Tight (To Mention)
Stars
If You Don't Know Me By Now
*There was a support-band/girl of some kind. Therese something. Simply Red is was one of those MTV-bands I grew up with, I can't say I liked them too much back then but times change and so do I. This was a real nostalgia-gig for me, I know and love most of the songs in the set and they sounded marvellous live still.  Great opening song!!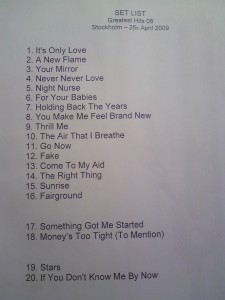 This entry is stored in Sunday, April 26th, 2009 at 9:38 am and is filed under Concert. You can follow any responses to this entry through the RSS 2.0 feed. You can leave a response, or trackback from your own site.