Set 1:
Opening prayer
Hymn of the seventh galaxy
Vulcan worlds
Sorceress
Song to the pharaoh kings
Set 2:
Space circus p. 1 (also known as Children's song #3)
Al's solo
No mystery
Chick's solo (incl. Alice in wonderland)
The romantic warrior
El bayo de negro (Stanley solo)
The romantic warrior (cont.)
Lineage (Lenny solo)
The romantic warrior (concluded)
The duel of the jester and the tyrant
*Some gigs mean more than life itself almost, and this one (together with Paris) has come to mean so much for me it's almost ridiculous. Four of the world's greatest musicians, reunited for one last time (?), playing music that is so fantastic it's unbelieveable, I'm so happy to have seen them, met them and told them how much it meant to me. The setlist is a work-in-progress, there were many snippets here and there of other songs which I will try and sort out when I can. And, the bonus of having seen a gig at the historical L'Olympia is simply breathtaking!
Lineup: Chick Corea, Stanley Clarke, Lenny White, Al DiMeola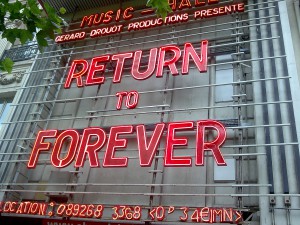 This entry is stored in Tuesday, July 8th, 2008 at 7:48 am and is filed under Concert. You can follow any responses to this entry through the RSS 2.0 feed. You can leave a response, or trackback from your own site.