Hero
Until we bleed
Thank you for nothing
3AM
– (Ain't no stopping until we make it)
Longing for lullabies (feat. Titiyo)
With every heartbeat (feat. Robyns vocals prerecorded)
– (Shout out louds-cover)
Hey boy (Teddybears STHM-cover)
I just want to make that sad boy smile
*Not very good gig, Kleerup was drunk as a skunk and the overall feeling was that of a high school-drunken-party. Not a gig. Great music though.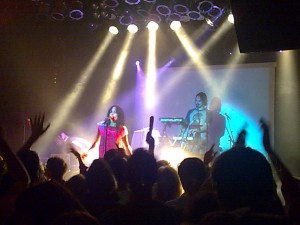 This entry is stored in Thursday, July 10th, 2008 at 7:50 am and is filed under Concert. You can follow any responses to this entry through the RSS 2.0 feed. You can leave a response, or trackback from your own site.