Intro: Churchill's speech
Aces high
Two minutes to midnight
Revelations
The trooper
Wasted years
The number of the beast
Can I play with madness?
Rime of the ancient mariner
Powerslave
Heaven can wait
Run to the hills
Fear of the dark
Iron maiden
Moonchild
The clairvoyant
Hallowed be thy name
*MOOOOOOOOOOOONCHILD!!!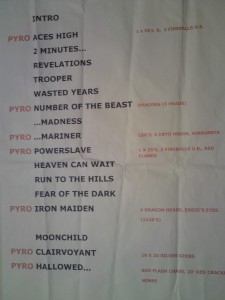 This entry is stored in Saturday, July 26th, 2008 at 7:53 am and is filed under Concert. You can follow any responses to this entry through the RSS 2.0 feed. You can leave a response, or trackback from your own site.