Rip it out
Hard times
Parasite
Snow blind (with I want you-ending)
Rock soldiers
Breakout
Into the void
Strange ways
Medley: Torpedo girl / Speedin' back to my baby / Five card stud / Trouble walkin'
Stranger in a strange land
New York groove
2000 man
Shock me / Ace solo
Rocket ride
Deuce
Love her all I can
Love gun
Cold gin (with Black diamond-ending)
*Ace is back and he told you so! A gig I'd been waiting since 1988 to hear and see, and the last minute-addition of Stranger In A Strange Land together with Ace's actual performance made this one of the most memorable gigs I've seen. Rip it out has to be one of the best opening songs by any band, ever!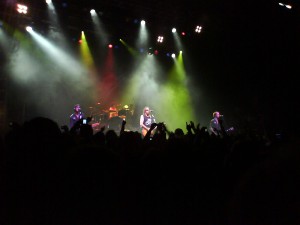 This entry is stored in Friday, April 11th, 2008 at 7:34 am and is filed under Concert. You can follow any responses to this entry through the RSS 2.0 feed. You can leave a response, or trackback from your own site.