Uriah Heep:
Overload
Cry freedom
Tears of the world
Between two worlds
Sunrise
Gypsy
Look at yourself
July morning
Easy livin'
Lady in black
Alice Cooper:
It's hot tonight
No more mr. nice guy
Under my wheels
I'm eighteen
Is it my body
Woman of mass distraction
Lost in America
Feed my Frankenstein
Be my lover
Dirty diamonds
Muscle of love
Desperado
Halo of flies / Eric Singer – drum solo
Welcome to my nightmare
Only women bleed
Steven
Dead babies
Ballad of Dwight Frye
Devil's food (instrumental)
Killer (ending section)
I love the dead (ending section)
School's out
Poison
Elected
*Alice was ill and cut 3 songs from the set in both Lund and Köpenhamn. One of the VERY few gigs played since 1980 without Billion $ babies!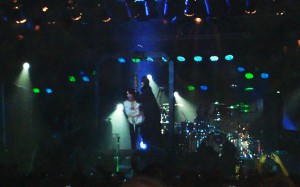 This entry is stored in Wednesday, November 28th, 2007 at 12:42 pm and is filed under Concert. You can follow any responses to this entry through the RSS 2.0 feed. You can leave a response, or trackback from your own site.