Förälskad i Köpenhamn (introlåt)
Regnet bara öser ner
Jazzbacillen
Flickor bak i bilen
Tunna skivor
Ingenting går upp mot gamla Skåne
Käre John (w/ Hasse Andersson)
*Great! Part of a Helsingborg-summerthingy called KulIJuli, other performers included Hasse Andersson, Maja Gullstrand, Håkan Brinck, Monica Forsberg, Martin Svensson and David Lindsöö.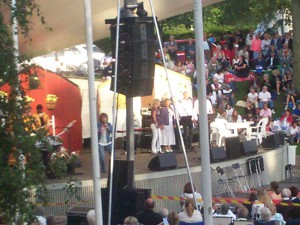 This entry is stored in Tuesday, July 17th, 2007 at 12:20 pm and is filed under Concert. You can follow any responses to this entry through the RSS 2.0 feed. You can leave a response, or trackback from your own site.