Älska mer
Röda dina läppar
Älskar dig, älskar dig alltid
En bädd av sand
Kärleksbrev i sanden
Padam padam
Det ska vara för evigt
Lovsång till kärleken
Kärlek är min karusell
De gamla älskandes visa
Göttingen
Pojke på månen
Vackra pojkar, vackra män
Allt du kan önska
*Wonderful gig in a large room at the old castle. Lovely ambience and lovely Rikard!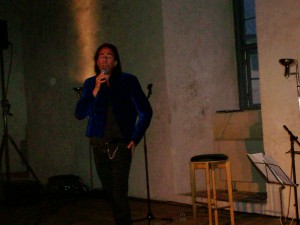 This entry is stored in Friday, July 28th, 2006 at 8:45 am and is filed under Concert. You can follow any responses to this entry through the RSS 2.0 feed. You can leave a response, or trackback from your own site.