In Flames 050709:
Cloud connected
Touch of red
System
Pinball map
Scorn
Bullet ride
Dial 595 escape
Graveland
The quiet place
Episode 666
Trigger
Only for the weak
My sweet shadow
Iron Maiden:
The ides of march
Murders in the Rue Morgue
Another life
Prowler
The trooper
Remember tomorrow
Where eagles dare
Run to the hills
Revelations
Wrathchild
Die with your boots on
Phantom of the opera
The number of the beast
Hallowed be thy name
Iron maiden
Running free
Drifter
Sanctuary
*Maiden were broadcast live in swedish TV and radio simultaneously! Probably the first time a metal-gig was broadcast live on TV in Sweden!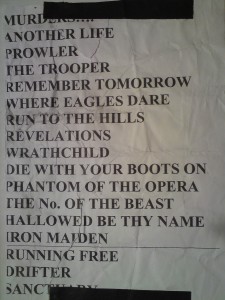 This entry is stored in Saturday, July 9th, 2005 at 8:19 pm and is filed under Concert. You can follow any responses to this entry through the RSS 2.0 feed. You can leave a response, or trackback from your own site.