Notre Dame:
Intro / Munsters
The red cross
Blacksmith & co.
Black birthday (Hip Hip Hooray)
Faust – The ghostwriter (intro)
Sabbat
Dusk
Money money money
M.O.M.
Bells of Notre Dame
Bouffoon bloody bouffoon
Beyond the threshold of pain 
*One of very few gigs this band did. Sadly. Setlist (below) has original notations from Snowy himself.
Dimmu Borgir:
Intro / Spellbound (by the devil)
In death's embrace
Vredesbyrd
Cataclysm children
Kings of the carnival creation
Allegiance
The insight & the catharsis
Progenies of the great apocalypse
Mourning palace
Perfection or vanity (outro)
Brides Of Destruction:
Shut the fuck up
Natural born killers
Brace yourself
2 x dead
The ballad of Jayne
I got a gun / Tracii Guns – guitar solo
Revolution
I don't care
Live wire
Shout at the devil
Alice Cooper:
Intro: Black Juju
Hello horray
No more mr. nice guy
Man of the year
Billion $ babies
Between high school and the old school
Muscle of love
Be my lover
Who do you think we are
What do you want from me
I'm eighteen
Desperado
Halo of flies / Drum solo
Sick things
Gutter Cat vs. The Jets
Backyard brawl
Cold Ethyl
Only women bleed
Ballad of Dwight Fry
School's out
Brutal planet / Wicked young man
Poison
Under my wheels
*Metaltown Festival.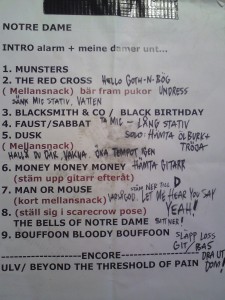 This entry is stored in Saturday, June 19th, 2004 at 10:38 am and is filed under Concert. You can follow any responses to this entry through the RSS 2.0 feed. You can leave a response, or trackback from your own site.