Pain Of Salvation (setlist from Oslo 020129 and Amsterdam 020204)
Intro: Remedy lane
Used
Fandango
Ashes
Undertow
Beyond the pale
Spirit Of The Land
Inside
Dream Theater:
The glass prison
6:00
Strange déjà vu
Surrounded
Burning my soul (incl. Hell's kitchen)
Another hand / The killing hand
Misunderstood
Lie (incl. Tool jam)
The great debate
Peruvian skies
Pull me under
Home
The spirit carries on
Take the time (incl. Working man / By-Tor)
*Pretty good gig by DT with a bunch of cool songs I was very happy to hear. The killing hand was awesome!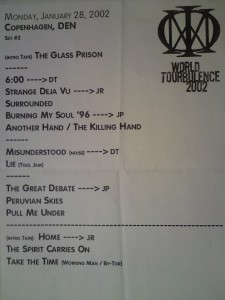 This entry is stored in Monday, January 28th, 2002 at 4:18 pm and is filed under Concert. You can follow any responses to this entry through the RSS 2.0 feed. You can leave a response, or trackback from your own site.