3D
Lucky
Credo
Vigil
The perception of Johnny Punter
Tiki 4
So Fellini
Kayleigh
Long cold day
Medley: Jungle ride (instrumental) / Assassing / Fugazi (ending section) / White feather
Market square heroes (incl. Black night / My generation)
Lavender
Bitter suite iii) Blue angel
The company
*Also great! The original setlist mentions both Tumbledown and Long cold day, but we got LCD in Copenhagen and TD in Malmoe. So happy we got them both!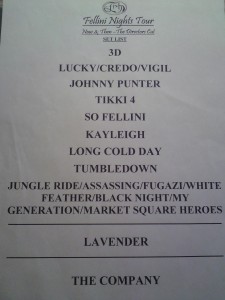 This entry is stored in Monday, November 12th, 2001 at 12:35 pm and is filed under Concert. You can follow any responses to this entry through the RSS 2.0 feed. You can leave a response, or trackback from your own site.