Melanie C:
Go!
Northern star
Be the one
When you're gone
Why
If that were me
Goin' down
Ga ga
Suddenly monday
I turn to you
Never be the same again
Bon Jovi:
Intro / One wild night
You give love a bad name
It's my life
Keep the faith
Livin'on a prayer
Born to be my baby
In these arms
Wild is the wind
Captain Crash and the beauty queen from mars
Just older
I got the girl
Lay your hands on me
Sleep when I'm dead
Bad medicine
Shout
Homebound  train
Someday I'll be saturday night
Say it isn't so
Wanted (Dead or alive)
Tequila
Twist and shout
*Very weird support acts, I understand that people were almost offended. Me, I was only there to see Melanie C so I was happy! BJ were disappointed too, both with the support acts and the audience, and even said as much to the papers. They didn't return to Sweden for 12 years. I wonder why.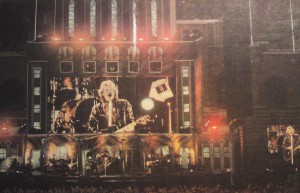 This entry is stored in Thursday, May 31st, 2001 at 11:42 am and is filed under Concert. You can follow any responses to this entry through the RSS 2.0 feed. You can leave a response, or trackback from your own site.