Om man ändå ska dö
Marienbad
När dom älskar
Kärlek till döds
Perlimpinpin – variation (tape)
När solen är svart
En bädd av sand
Ostindiefarargatan 2
Det är hemskt att leva
Min allra största kärlek
Den svarta örnen
Göttingen
Säg, när kommer du tillbaka?
Nu lämnar vi stan
*Incomplete setlist, the Barbara-portion is complete but he played some encores too including (probably) Paris and Pojken på månen.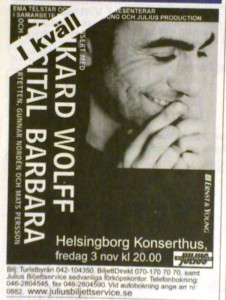 This entry is stored in Friday, November 3rd, 2000 at 12:50 pm and is filed under Concert. You can follow any responses to this entry through the RSS 2.0 feed. You can leave a response, or trackback from your own site.