Ulrika / Papi Raul sketchintro
Wyclef Jean: Intro rap
U2: Beautiful day
All Saints: Pure shores
Madonna: Music
Spice Girls: Holler
Robbie Williams / Kylie Minogue: Kids
Moby: Porcelain
Jennifer Lopez: Love don't cost a thing
Ronan Keating: Rollercoaster
Sketch med Wyclef Jean / The Muppet's Swedish Chef
Guano Apes: ??
Backstreet boys: Shape of my heart
Bomfunk MC's: Freestyler
Ricky Martin: She bangs
*The most expensive ticket I have ever bought, and I bought it to see Madonna and the Spice Girls do one song each. This would turn out to be the Spice Girls' last performance until their reunion in 2007. It was Madonna's first ever performance in Stockholm, and second ever in Sweden.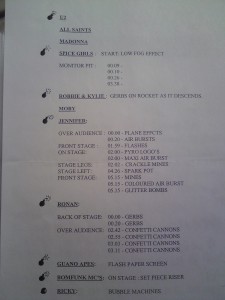 This entry is stored in Thursday, November 16th, 2000 at 12:56 pm and is filed under Concert. You can follow any responses to this entry through the RSS 2.0 feed. You can leave a response, or trackback from your own site.