The good don't last that long
Thoughts
At the end of the day
Revelation
Thoughts p. II
Lay it down
The healing colors of sound / Ryo's solo
The great nothing
Medley (incl. solos) : The water / Doorway / The light / June / Go the way you go
*Nice gig at a very small venue.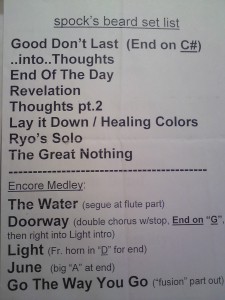 This entry is stored in Saturday, October 14th, 2000 at 12:49 pm and is filed under Concert. You can follow any responses to this entry through the RSS 2.0 feed. You can leave a response, or trackback from your own site.