Lions Share:
Unholy nights
Edge of sanity
A touch of evil
Sins of a father
Scarecrow
Dio:
Evilution
Straight through the heart
Don't talk to strangers
Holy diver / Simon Wright – drum solo
Heaven and hell
Rock'n'roll children
I speed at night
Stargazer / Craig Goldy – guitar solo
King of rock and roll
The last in line
Rainbow in the dark
Man on the silver mountain
Long live rock'n'roll
*I left immediately after Dio, and went backstage to meet him. I ran into Joey DeMaio who invited me to the gig, but I told him I was waiting for Dio. After a while the band came out, talked and posed for pictures. Dio was so incredibly nice to me this night that I will cherish it in my heart forever.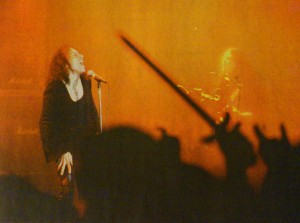 This entry is stored in Friday, November 12th, 1999 at 10:40 am and is filed under Concert. You can follow any responses to this entry through the RSS 2.0 feed. You can leave a response, or trackback from your own site.