Something's gonna happen
Independence day
Northern star
Be the one
Gaga
Suddenly monday
I turn to you
Feel the sun
If that were me
Goin' down
Wannabe
I wonder what it would be like
Go!
Closer (acoustic)
Goin' down (acoustic)
*Very cool gig, Mel C only played a handful of gigs in 99 as teasers for the upcoming album and real tour. Luckily she chose to play Copenhagen, and even more luckily she played one song that didn't make it onto the album. The gig was aired on radio and there was an abundance of mediacoverage from both Sweden and Denmark. Most of it negative, but she honestly couldn't win whatever she did, being a Spice Girl and all. I loved the gig though, and saw her many times during the coming years.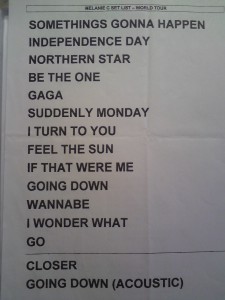 This entry is stored in Friday, October 29th, 1999 at 10:36 am and is filed under Concert. You can follow any responses to this entry through the RSS 2.0 feed. You can leave a response, or trackback from your own site.