John Wesley:
–
Waiting for the sun to shine
The days that won't let go
13 days
The last man by your side
Fish:
Faith healer
Lucky
Just good friends
Brother 52
Goldfish & clowns
Hotel hobbies
Warm wet circles
That time of the night (The short straw)
Tumbledown
Plague of ghosts
Cliché
The perception of Johnny Punter
Incomplete
Sunsets on empire
The company
*Incomplete was only played at a couple of gigs, and in Denmark Fish added it since it actually was a small independent hit there! The setlist all in all is a true killer, the Clutching-part, the full Plague and both Incomplete and Sunsets…I'm happy to have witnessed it.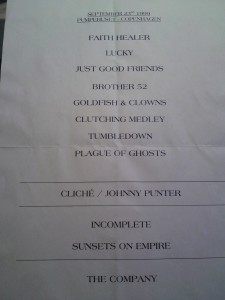 This entry is stored in Thursday, September 23rd, 1999 at 10:34 am and is filed under Concert. You can follow any responses to this entry through the RSS 2.0 feed. You can leave a response, or trackback from your own site.