Hammerfall 980605:
Child of the damned
The metal age
Unchained
Steel meets steel
I believe
The dragon lies bleeding
Eternal dark
Stone cold
Hammerfall
Breaking the law
Status Quo 980605:
Whatever you want
Softer ride
The wanderer
Mystery song / Railroad / Most of the time / Wild side of life / Rollin' home / Dear John / Again and again / Slow train
Gerdundula
Roll over lay down
In the army now
Don't waste my time
Rockin' all over the world
Something 'bout you baby I like
Roadhouse blues
Caroline
Anniversary waltz p. 1
Rock and roll music / Bye bye Johnny
Simple Minds 980605:
War babies
She's a river
Superman vs. Supersoul
Glitterball
See the lights
Don't you (forget about me)
Love song
Someone somewhere in summertime
New gold dream (81,82,83,84)
Hypnotised
Waterfront
Let there be love
Belfast child
Alive and kicking
John Norum 980605:
Intro / Face the truth
Unchain the night
Let me love you
Good man shining
Wishing well
Don't believe a word
Stone free
Back to life
Heart of stone / John Norum – guitar solo
CYR
Natural thing
You really got me
*Replacing scheduled headliner Van Halen on VERY short notice! 
Håkan Hemlin 980606 (partial):
Förlist (opening song)
Vandraren
Soldier of fortune (Deep Purple)
One of us (Joan Osborne)
Dancing madly backwards (Fläskkvartetten)
-untitled newly written song feat. Rob'n'Raz
*Tour premiere. I don't remember anything, partial setlist come from reviews and his autobiography. Apparently the gig barely lasted an hour and was, by all accounts, awful.
Blue Öyster Cult 980606:
Burnin' for you
Cities on flame with rock & roll
E.T.I.
Harvest moon
Buck's boogie
O.D.'d on life itself
The vigil
Live for me
Flaming telepaths
See you in black
Then came the last days of may
Godzilla
(Don't fear) the reaper
Dominance & submission
Mountain 980606:
The star spangled banner
Never in my life
Theme for an imaginary western
Crossroad
Third degree
Blood of the sun
Nantucket sleighride
Mississippi queen
Whole lotta love
Voodoo chile
Dee Snider's SMF 980606 :
What you don't know (sure can hurt you)
The kids are back
Stay hungry
I am (I'm me)
You can't stop rock & roll
Come out & play
Leader of the pack
I believe in rock and roll
Be chrool to your scuel
Burn in hell
We're not gonna take it
Under the blade
I wanna rock
It's only rock & roll (but I like it)
The price
S.M.F.
Motörhead 980606 :
Iron fist
Stay clean
Over your shoulder
Civil war
Metropolis
Nothing up my sleeve
I'm so bad (baby I don't care)
The chase is better than the catch
Take the blame
No class
Overnight sensation
Sacrifice
Born to raise hell (w/ Dee Snider)
Orgasmatron
Going to Brazil
Killed by death
Bomber
Ace of spades
Overkill
Alice Cooper 980606:
Hello! Hurray!
Sideshow
Billion $ babies
No more mr. nice guy
He's back (The man behind the mask)
Be my lover
Lost in America
I'm eighteen
From the inside
Only women bleed
Steven
Halo of flies
Unfinished sweet
Nothing's free
Cleansed by fire
Poison
Cold Ethyl
School's out
Jailhouse rock
Under my wheels
*Alice replaced regular song Public Animal no. 9 with He's back which was only played at this gig on the tour. Overall this was a great festival, Simple Minds were very good, Alice was good, Blue Oyster Cult was good… Missing these setlists: Clawfinger / Creedence Clearwater Revisited / D-A-D / Locomotive Breath / Freak Kitchen / Håkan Hemlin (partial) / Hjalle & Heavy / Jonny Lang / Black Ingvars. The festival was renamed the year after since it had moved out of Karlshamn (and needed a better name anyway).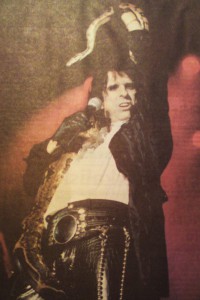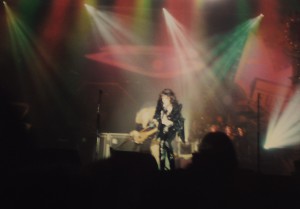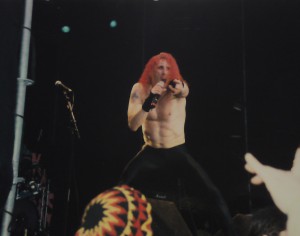 This entry is stored in Friday, June 5th, 1998 at 9:21 am and is filed under Concert. You can follow any responses to this entry through the RSS 2.0 feed. You can leave a response, or trackback from your own site.