What you don't know (sure can hurt you)
The kids are back
Stay hungry
Destroyer
I am, I'm me
You can't stop rock & roll
Come out & play
Leader of the pack
I believe in rock & roll
Be chrool to your scuel
We're gonna make it
We're not gonna take it
Wake up the sleeping giant
Shoot 'em down
Burn in hell
Under the blade
I wanna rock
It's only rock & roll (but I like it)
The price
S.M.F.
*I went to this gig thinking of it as a kind of joke, but I was totally knocked off my feet. This band sounded so much better than Twisted Sister ever did, the gig and feeling was great!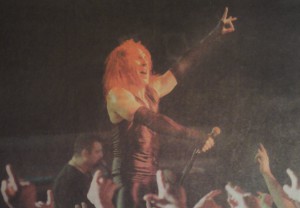 This entry is stored in Thursday, March 26th, 1998 at 9:10 am and is filed under Concert. You can follow any responses to this entry through the RSS 2.0 feed. You can leave a response, or trackback from your own site.