Sepultura:
Roots bloody roots
Spit
Territory
Breed Apart
Attitude
Propaganda
Straighthate
Arise / Dead embryonic cells
Ambush
Biotech is Godzilla
Refuse / Resist
Slave new world (feat. Evan Seinfeld)
Troops of doom
Ratamahata / Kaiowas
Polizia
Ozzy Osbourne:
Intro
Paranoid
War pigs
I don't know
Goodbye to romance
Perry Mason
Mr. Crowley
Suicide solution
Instrumental medley: Over the mountain / Symptom of the universe / Diary of a madman / Believer
I don't wanna change the world
I just want you
Flying high again
No more tears
Sabbath bloody sabbath
Iron man
Sweet leaf
Children of the grave
Crazy train
Mama, I'm coming home
Bark at the moon
KISS:
Deuce
King of the night time world
Do you love me
Calling dr. love
Cold gin
Let me go, rock 'n roll
Shout it out loud
Watchin' 'you
Firehouse
Shock me / Ace Frehley – guitar solo
Strutter
Gene Simmons – bass solo / God of thunder / Peter Criss – drum solo
Love gun
100, 000 years
Black diamond
Detroit rock city
Rock and roll all nite
*Sepultura played without Max who had to return home due to a personal crisis. Ozzy sang so poor it was horrible to listen to, he even apologized to the audience about it. KISS sadly cut three songs usually played on this part of the tour; Rock bottom, New York groove and Beth.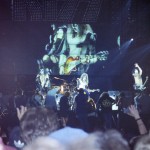 This entry is stored in Saturday, August 17th, 1996 at 2:11 pm and is filed under Concert. You can follow any responses to this entry through the RSS 2.0 feed. You can leave a response, or trackback from your own site.