Skicka ett vykort, älskling
Det hjärta som brinner
Dansar inte lika bra som sjömän
Flickorna på TV2
Juni, juli, augusti
Ljudet av ett annat hjärta
Billy
(Hon vill ha) Puls
Kung av sand
Gå och fiska
(Kom så ska vi) Leva livet
Ska vi älska så ska vi älska till Buddy Holly
Tylö sun
Harplinge
Det är över nu
Sommartider (incl. Flickan i en Cole Porter-sång)
Marie i växeln (feat. Wilmer X / Love Olzon)
När vi två blir en
När alla vännerna gått hem (feat. Marie Fredriksson)
* This was the last gig on the tour and when Marie Fredriksson joined and sang Vännerna I thought the place was going to explode! Very emotional. And this is also the only gig EVER to include the song Harplinge, it hasn't been performed before or since.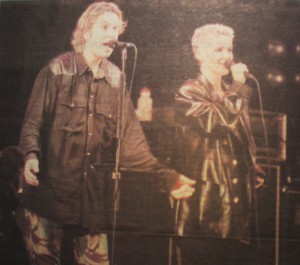 This entry is stored in Saturday, August 10th, 1996 at 2:03 pm and is filed under Concert. You can follow any responses to this entry through the RSS 2.0 feed. You can leave a response, or trackback from your own site.