Accept:
Restless and wild
Son of a bitch
Living for tonite
London leatherboys
Monster man
Flash rockin' man
Slaves to metal
Breaker
Crossroads
It ain't over yet
Princess of the dawn
Bad habits die hard
Hard attack
Bulletproof
Fast as a shark
Metalheart
Makin' me scream
I'm a rebel
Burning
Balls to the wall
*Vicious Rumours were very good, I recall Digital dictator but no more. Accept rocked this night. I took a day off from school to go to Copenhagen early to meet them, and when I got on the ferry at around midday – lo and behold, there they were too! I chatted with Peter Baltes for the duration of the ride, he signed my albums and had a good laugh at the backcover of the Rebel-album. All in all it was a nice day, I asked Wolf if they would consider palying Losing more than you've ever had (my fav song) but alas, it was not to be. I'm still hoping for it.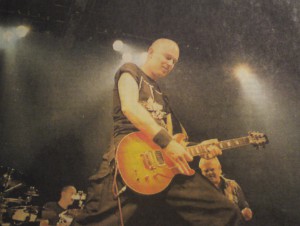 This entry is stored in Thursday, May 2nd, 1996 at 1:43 pm and is filed under Concert. You can follow any responses to this entry through the RSS 2.0 feed. You can leave a response, or trackback from your own site.