Fear Factory:
Pisschrist
Zero signal
Self bias resistor
Scum grief
Dog day sunrise
Scapegoat
Martyr
Replica
Ozzy Osbourne:
Paranoid
I don't know
Flying high again
Goodbye to romance
No more tears
I don't wanna change the world
Suicide solution
Iron man
Sweet leaf
Children of the grave
Mr. Crowley
War pigs
Crazy train
Bark at the moon
*My first time seeing Ozzy, that was cool, but the gig was a lackluster affair. The venue was barely halffull and this seemed to have an effect on Ozzy since he didn't seem to into it. The wellpacked Valbyhallen 3 days later were treated to three additional songs aswell as a fiery Ozzy. Still, for a first time I was in awe, the setlist was ok (but where were the Ozzmosis-tracks??), it was cool to see Geezer on bass with Ozzy and I met Randy Castillo (R.I.P) and Joe Holmes at the hotel. Joe was a very nice guy and sat down and talked with me for about an hour. He remembered me when i met him in Copenhagen too and gave me a guitar pick!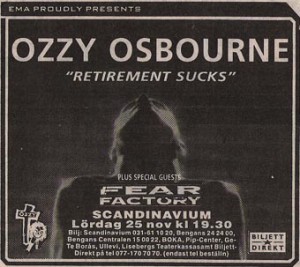 This entry is stored in Saturday, November 25th, 1995 at 10:20 pm and is filed under Concert. You can follow any responses to this entry through the RSS 2.0 feed. You can leave a response, or trackback from your own site.