House of the rising sun
Don't let me be misunderstood
Bring it on home to me
We gotta get out of this place
It's my life
C C rider
Fever
Baby please don't go
Johnny B. Goode
I'm crying
Don't bring me down
Inside looking out
Baby let me take you home
*Setlist compiled from review, in no order and very incomplete. The band played 2 x 45minutes. Lineup included original drummer John Steel, original guitarist Hilton Valentine and singer Robert Kane.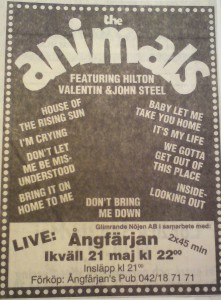 This entry is stored in Sunday, May 21st, 1995 at 11:40 am and is filed under Concert. You can follow any responses to this entry through the RSS 2.0 feed. You can leave a response, or trackback from your own site.