Magnum:
We all need to be loved
Back to earth
Just like an arrow
Love's a stranger
Les morts dansant
Rock heavy
How far Jerusalem
Tall ships
The lights burned out
Wild swan
Rockin' chair
Vigilante
Kingdom of madness
The spirit
Sacred hour
*Don't recall much of Nazareth, left after half of the gig since I didn't like it and it was way too loud. M.ILL.ION played Judgement day, that I remember.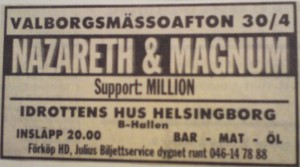 This entry is stored in Sunday, April 30th, 1995 at 11:39 am and is filed under Concert. You can follow any responses to this entry through the RSS 2.0 feed. You can leave a response, or trackback from your own site.