Fates Warning:
Intro / Life in still water
Outside looking in
Down to the wire
The eleventh hour
Point of view
Face the fear
Eye to eye
Monument
*Opening for Dream Theater. Setlist compiled from Utrecht 950215 and personal memory.
Dream Theater:
Little green bag/Wake up! (intro tape)
Pull me under
6:00
Take the time
Caught in a web (w/ drum solo)
Lifting shadows off a dream
John Petrucci: For Rena/Lost without you
A crack in the mirror
The mirror
Lie
Surrounded / Derek Sherinian – keyboard solo
A mind beside itself:
I Erotomania
II Voices
III The silent man
Metropolis part I – the Miracle and the Sleeper
Eve (outro tape)
*Perfect Strangers was on the setlist before Metropolis but wasn't played. It almost seems unreal today that I have seen Dream Theater at KB, a small place which holds about 750 people. The place was packed, I had of course seen them on the night before in Copenhagen but I was still in awe. James was struggling a bit with the high notes, but all in all it was a great gig. Too bad nobody seems to have taped neither Copenhagen nor Malmo. Would love to hear those gigs again.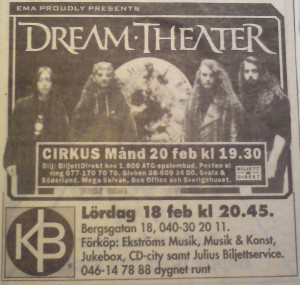 This entry is stored in Saturday, February 18th, 1995 at 11:33 am and is filed under Concert. You can follow any responses to this entry through the RSS 2.0 feed. You can leave a response, or trackback from your own site.