Angel of death
Chinatown
Emerald
Southbound
Cold sweat
Waiting for an alibi
Thunder & lightning
Bad reputation
Killer on the loose
Cowboy song (Brian joined the band on this song)
Jailbreak
Are you ready
Suicide
Dancing in the moonlight
Massacre
Still in love with you
Warriors
The boys are back in town
Don't believe a word
Rosalie
Sha la la (w/drum solo)
The rocker
Baby drives me crazy
*Very cool gig to have seen, the band was absolutely awesome (I don't normally go for coveracts!) and when Robbo joined they just exploded. The version of Still in love with you at this gig was nothing short of astounding.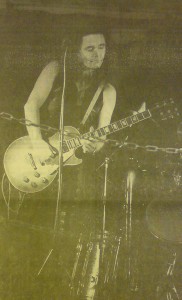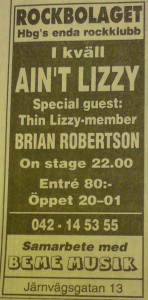 This entry is stored in Wednesday, October 26th, 1994 at 11:12 am and is filed under Concert. You can follow any responses to this entry through the RSS 2.0 feed. You can leave a response, or trackback from your own site.