I'll be your sister
Traitor
I'm so bad (baby I don't care)
Metropolis
Liar
Stay clean
On your feet or on your knees
Lost in the ozone / Mikkey Dee – drum solo
The one to sing the blues
You better run
Burner
We bring the shake
Going to Brazil
Born to raise hell
Killed by death
Overkill
Cat scratch fever
Ace of spades
*Nice gig, very loud, and the songs from Bastards rocks! This was the only time I got to see Würzel.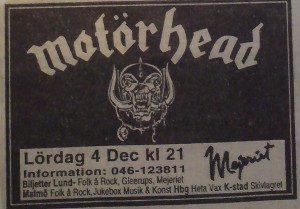 This entry is stored in Saturday, December 4th, 1993 at 11:25 pm and is filed under Concert. You can follow any responses to this entry through the RSS 2.0 feed. You can leave a response, or trackback from your own site.