Mr. Big:
Colorado bulldog
Price you gotta pay
Green tinted sixties mind
What's it gonna be
Wild world
The whole world is gonna know
Daddy, brother, lover, little boy (The electric drill song)
To be with you
Addicted to that rush
Aerosmith:
Eat the rich
Toys in the attic
Rag doll
Fever
Draw the line
What it takes
Last child
The other side
Cryin'
Shut up & dance
Stop messin' round (Joe Perry)
Get a grip
Janie's got a gun
Sweet emotion
Love in an elevator
Dude (looks like a lady)
Dream on
Livin' on the edge
Walk this way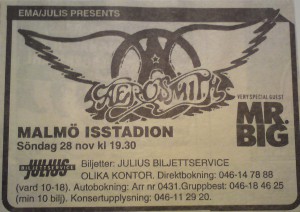 This entry is stored in Sunday, November 28th, 1993 at 11:21 pm and is filed under Concert. You can follow any responses to this entry through the RSS 2.0 feed. You can leave a response, or trackback from your own site.