The Almighty:
Intro
Takin' hold
Addiction
Crucify
Wild and wonderful
Jesus loves you…but I don't
Powertrippin'
Love religion
Lifeblood
Free 'n' easy
*I didn't like this band at the time, but today I feel privileged to have seen them, not once but twice! And listening to the bootleg today i realise what a fekkin' great gig this was.
Iron Maiden:
Be quick or be dead
The number of the beast
Prowler
Transylvania
Remember tomorrow
2 minutes to midnight
From here to eternity
Wasting love
Bring your daughter…to the slaughter
Wasted years
The evil that men do
Afraid to shoot strangers
Fear of the dark
The clairvoyant
Heaven can wait
Run to the hills
Iron maiden
Hallowed be thy name
The trooper
Sanctuary
*I was awestruck to hear Prowler, Remember tomorrow and Transylvania. Bruce didn't seem very into it though, and the overall gig lacked the intensity from Copenhagen in august 1992. I met Dave Murray at the hotel before the gig.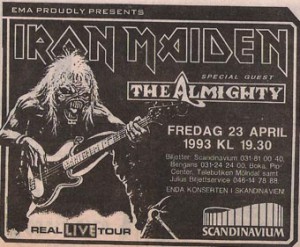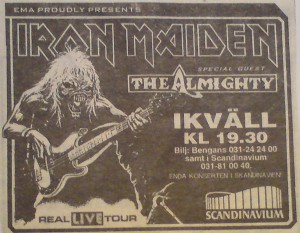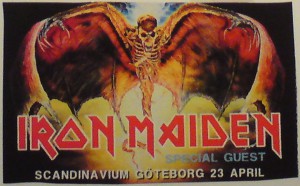 This entry is stored in Friday, April 23rd, 1993 at 8:46 pm and is filed under Concert. You can follow any responses to this entry through the RSS 2.0 feed. You can leave a response, or trackback from your own site.