Gotthard:
Hunter
Standing in the light
Firedance
Hush
Angel
Get down
Downtown
Mean street rocker
All I care for
Medley : Black dog / Rock and roll / Long live rock & roll
*Opening for Magnum. Setlist taken from Münster 921129 and from contemporary review. I recall Mighty Quinn having been played but I'm not too sure. Any info appreciated.
Magnum:
Intro
The flood
Just one more heartbreak
All England's eyes
Vigilante
Sleepwalking
Pray for the day
Les morts dansant
You're the one
Just like an arrow
Only in America
How far Jerusalem
Too much to ask
Days of no trust
Rockin' chair
Kingdom of madness / drum solo
Midnight (you won't be sleeping)
When the world comes down on you
Sacred hour
*Setlist comes from Stockholm 921111, my personal memory and contemporary review.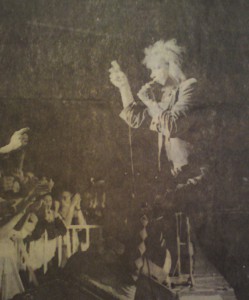 This entry is stored in Tuesday, November 10th, 1992 at 8:40 pm and is filed under Concert. You can follow any responses to this entry through the RSS 2.0 feed. You can leave a response, or trackback from your own site.